WIDE APPEAL OF LONDON WATERFRONT
Some of the top cities in the world for international real estate are situated on the waterside, either on the banks of a river, on the harbour, or by the ocean. The water has consistently proved a catalyst for commercial success. London is one of these premier cities, with the River Thames flowing through the heart of the capital, providing waterfront living, popular with a diverse range of buyers and tenants in the centre of cultural, political and industrial history.
Increasingly, the Thames has gained popularity with buyers from around the world looking to invest in riverside properties in London. The proportion of international buyers increases towards the centre of London, while on the west and east of the city the majority of waterfront properties are still bought by UK owner-occupiers. In particular, emerging new developments, many of which have been marketed abroad, have a high proportion of international buyers.
The unique appeal of waterside properties comes with a premium, where waterfront properties often achieve higher prices than their landlocked counterparts. The premium for direct views of the water, compared to just a view of the street behind, could be around 20%. However, as the river waterside is being actively built up, there can only be a limited number of properties providing the direct river view. As a result, many people are willing to pay extra for a room with a view. New developments can also command a premium for height, with the most extreme differences in value achieved on higher floors.
The largest group of buyers of central London waterfront property are investors, with their properties being occupied by waterfront tenants, demonstrating the strong appeal of the river and a large group who will pay premium rents for the right property. As the commercial importance of the river has declined, it is waterfront living and leisure that have come to define the modern-day Thames. Inherently the waterfront offers a sense of light, space, and relaxation, beautiful surroundings and exceptional views, making it more of a riverside way of life than just a riverside property.
The River Thames has changed significantly over the last couple of decades, with widespread new build riverside developments offering new and attractive riverside lifestyle combined with modern accommodation and facilities. Many of these developments offer exceptional amenities to riverside buyers and tenants alike, such as swimming pools, gyms, health spas, tennis courts, resident's lounges and meeting areas. In addition they offer landscaped gardens, underground parking, 24 hour concierge service, increased security along with on-site or neighbouring riverside restaurants, cafes and more traditional waterfront pubs. The desirability of waterfront living in terms of both where to live and where to invest is strong, with many appreciating the benefits there are in London, as not every city can offer such opportunities.
New development schemes have been able to build right to the water's edge on both north and south banks, affording uninterrupted views of the River Thames. To the east, new schemes are linked with repurposed and renovated industrial buildings built straight up from the riverbank and surrounded by canals and dockyards. Many iconic structures scatter the river, allowing riverside properties in London to afford views not only of the river, but also of worldwide recognised landmarks, such as views of the London Eye, Houses of Parliament, or Tower Bridge to name a few favourites.
From new and modern flats, panoramic penthouses to studios, to more traditional properties with character, as well as Georgian and Victorian houses on the banks of the river, there are a variety of properties to suit every taste, all united by one factor - attractive river views.
As the number of riverside developments also increases providing new community areas and living spaces, the Mayor and TfL estimate 100,000 additional homes will be created close to the Thames by 2031. This therefore makes it crucial that the river becomes an integral part of the London transport network. To provide an opportunity for Londoners to travel by boat rather frequently, the construction of three new piers is planned on the banks of Thames. There is a growing popularity of river boat services and steady increase in river boat journeys over the past few years. TfL plans to double the number of passenger journeys by 2020 following a large investment into the river transport system.
Whether relocating for lifestyle reasons, or looking for an investment opportunity, there is really something for everyone along the River Thames waterfront. Current development of London's riverside combined with predicted continuous increase in capital's property prices offer great timing and opportunities to become a homeowner of London's riverside properties.
You can always contact us by telephone on +44 (0)20 7907 1460 or via email to request detailed information about the properties, arrange a viewing, or ask questions.
The Corniche, Albert Embankment, London, SE1 Prices on application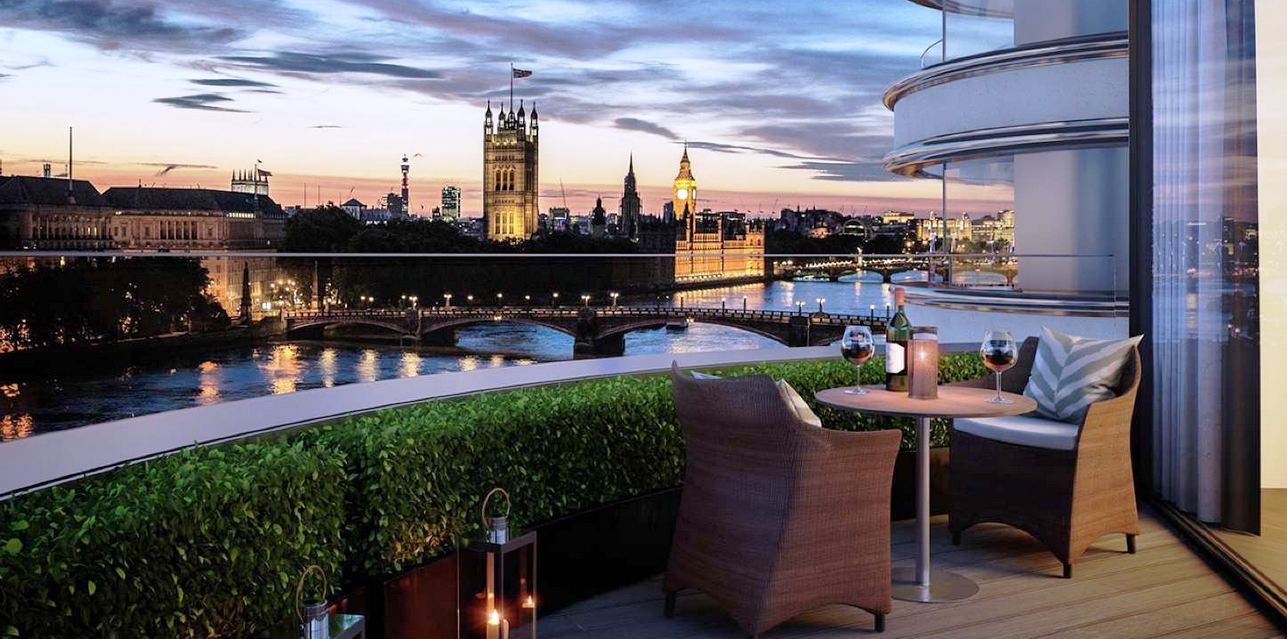 Located in the heart of London, this exclusive riverside development is conveniently placed for getting around one of the world's most exciting cities. The Corniche is located in the London Borough of Lambeth and situated on the southern stretch of Albert Embankment, adjacent to the River Thames. This development falls within the Vauxhall, Nine Elms Battersea Regeneration Area, which runs from Lambeth Bridge to Chelsea Bridge and aims to be an exciting new region in the city centre. Vauxhall is the nearest tube station.
The development is offering a selection of luxurious one, two and three bedroom apartments and penthouses boasting magnificent views of some of London's most iconic landmarks. Panoramic views over the most important stretch of the river take in every silhouette of the London skyline, from the magnificent Houses of Parliament to the round pods of the London Eye. The Corniche celebrates ease and recreation with a wealth of luxury amenities, including an infinity pool, spa, private screening room and club lounge with terrace.
Merano Residences, Albert Embankment, London, SE1 Prices on application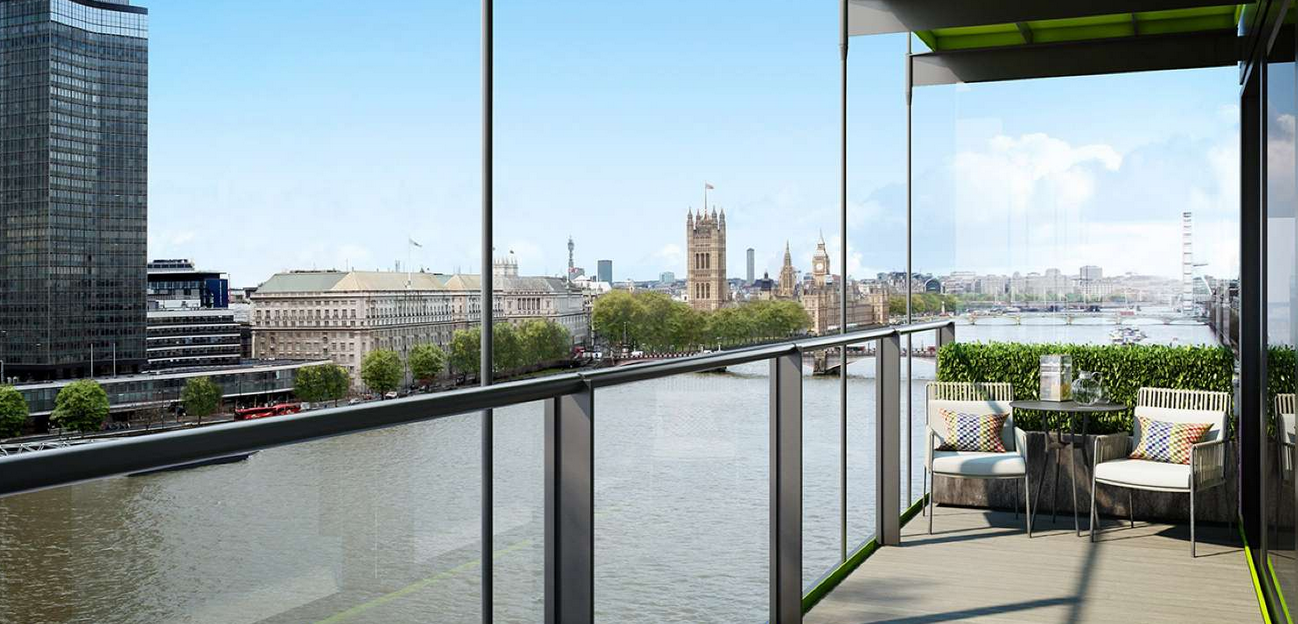 One of the finest developments on the River Thames, Merano residences offer the rarest of London living experiences. It comprises collection of just 34 private residences, each occupying at least one whole coloured level. Residents at Merano will enjoy the rarest privilege of gazing out over the River Thames at arguably its most famous historic and contemporary icons, the Palace of Westminster and the London Eye.
Designed by one of the world's most celebrated architects Rogers Stirk Harbour + Partners, Merano is at the forefront of Nine Elms on the South Bank, the largest regeneration area in London and the UK. This 481-acre area, more than four times the size of London's Canary Wharf, is redefining the geography of central London through the creation of a whole new district.
Apartment spaces at Merano can be customised to meet the exacting requirements of every individual resident, with options including the addition of bedrooms, studies, and walk in storage spaces.
The development also benefits from the residents' roof garden which sits 140ft above the river and city beneath, and expansive new piazza.
Royal Arsenal Riverside, Woolwich, London, SE18 £425,000 +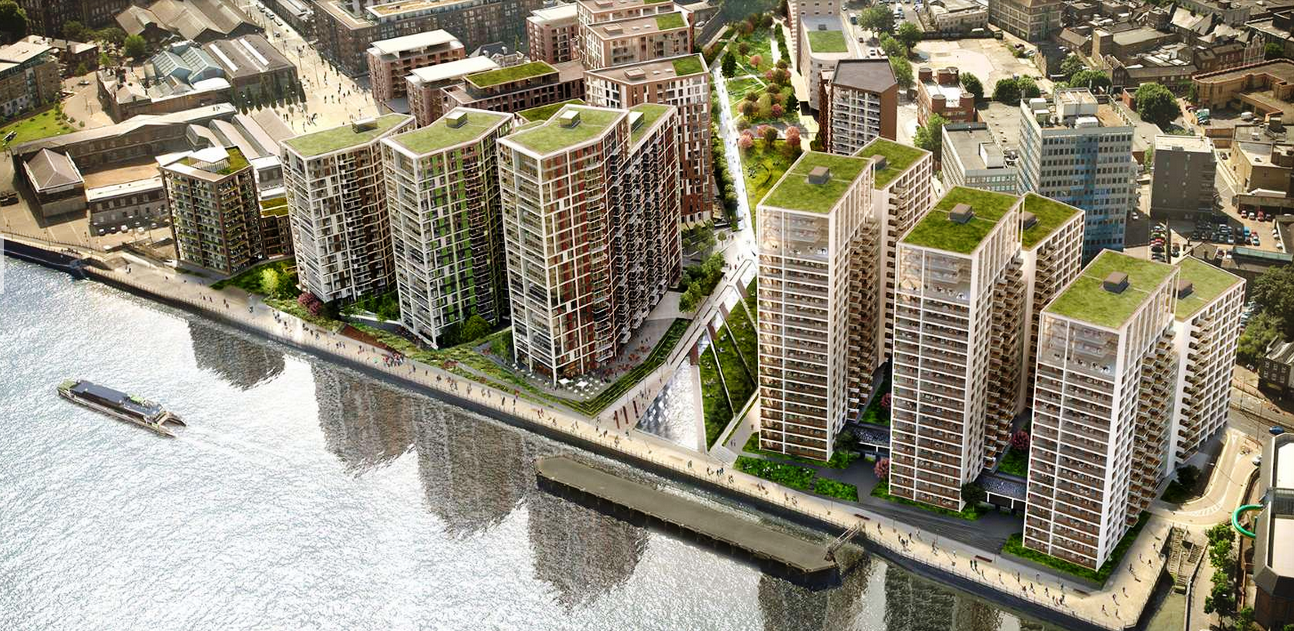 Located on the River Thames, in the Royal Borough of Greenwich, Waterfront at Royal Arsenal Riverside is vibrant riverside living with all the design details and high quality specification. Royal Arsenal Riverside is an award-winning blend of old and new: historic listed buildings meet contemporary designs. It's this unique mix which makes this a vibrant and exciting place to live.
With fast, regular DLR and mainline rail connections, as well as the on-site Thames Clipper pier, it is easy to meet up with friends or network with colleagues. Plus, London City Airport is just a few stops away.
Living at Waterfront, you will have all the essential amenities at Royal Arsenal Riverside at your disposal: a choice of dining, groceries, pharmacy, doctor's surgery, dentist, nursery, gym and 24-hour concierge are already available.
Dollar Bay, Isle of Dogs, London, E14 £505,000 +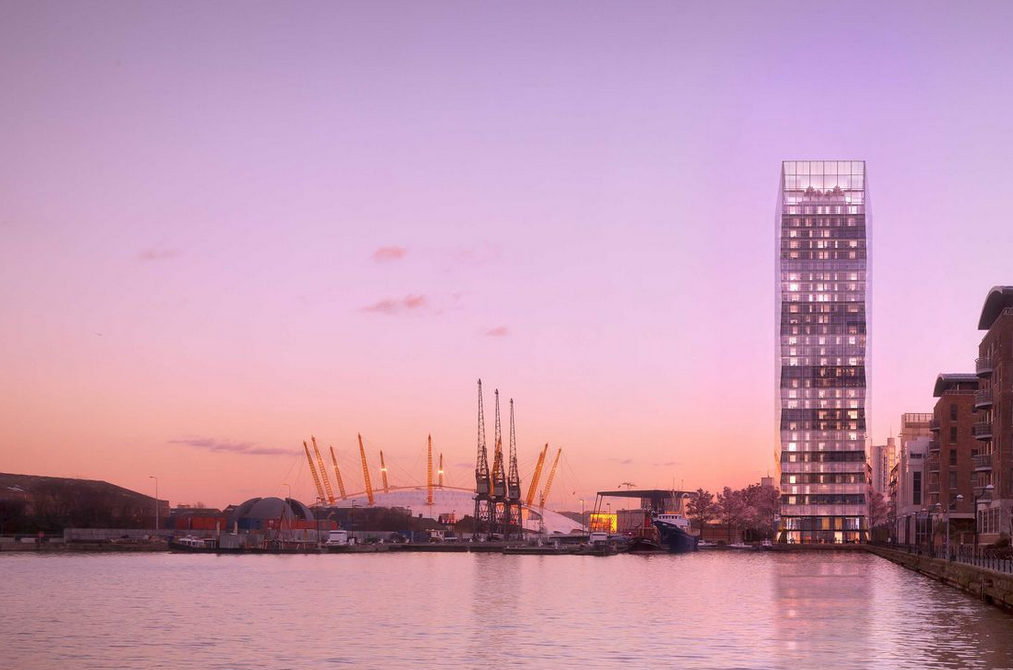 Unhindered by neighbouring buildings, Dollar Bay's prime location at the foot of the South Dock makes for spectacular and unmatched views. Each of the 111 apartments offers magnificent water view, either of the South Dock or the River Thames. These uninterrupted vistas across London to the east and west are maximised by the angle and shape of Dollar Bay's distinctive 'crystal' structure. Each apartment also boasts its very own winter garden, beautiful high contrast interiors, and smart and stylish storage solutions.
Dollar Bay's beauty is in the detail. The result is simply breathtaking.
The development is located in the Isle of Dogs, emerging as London's new financial heart. 16 major banks and media corporations have already made the move to the Canary Wharf area and by 2016 the area is expected to accommodate 150,000 jobs. With them they will bring further growth and opportunities. And with Crossrail opening a station in 2018, the area will soon be even more well-connected.
Brewery Wharf, London, TW1 £550,000 +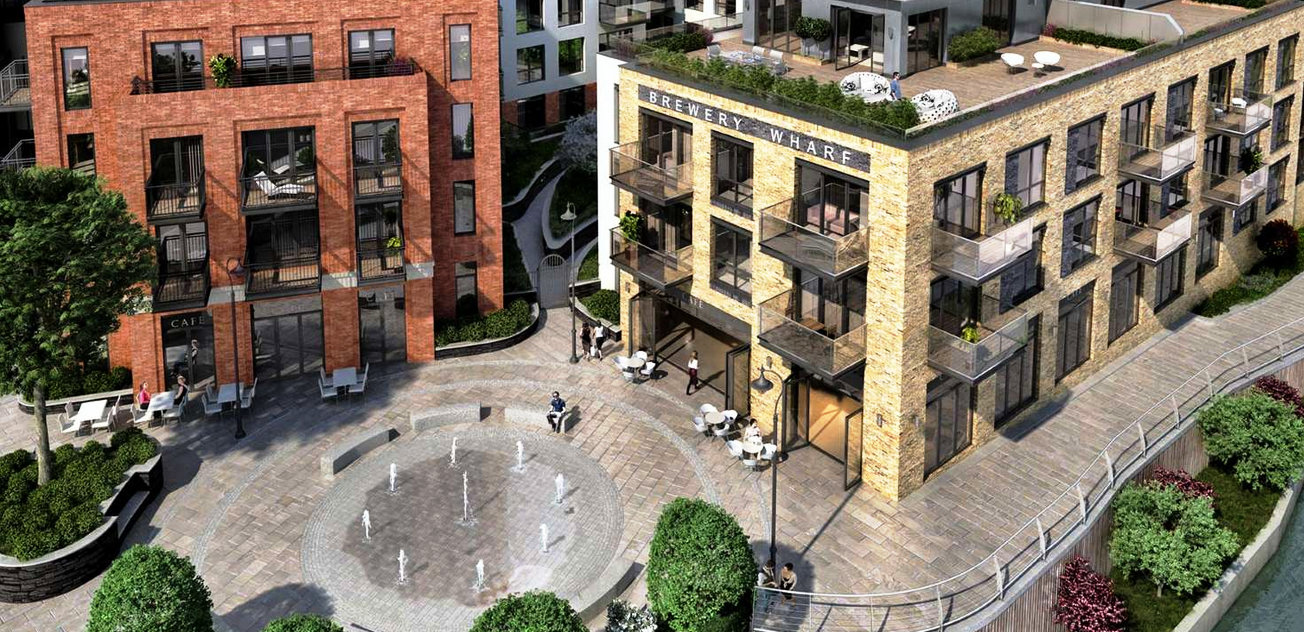 Set within the Borough of Richmond upon Thames, Brewery Wharf is a new development of 82 luxury apartments and 28 gated houses, 2 restaurants, public piazza and a cultural venue.
Best known for world famous Twickenham Stadium, this area is much sought after due to its excellent schools, beautiful riverside walks, historical landmarks, museums and green open spaces. Perfectly placed opposite Twickenham railway station and just 25 minutes away from London Waterloo, this development is set to become a landmark in the local community.
Queen's Wharf, London, W6 £595,000 +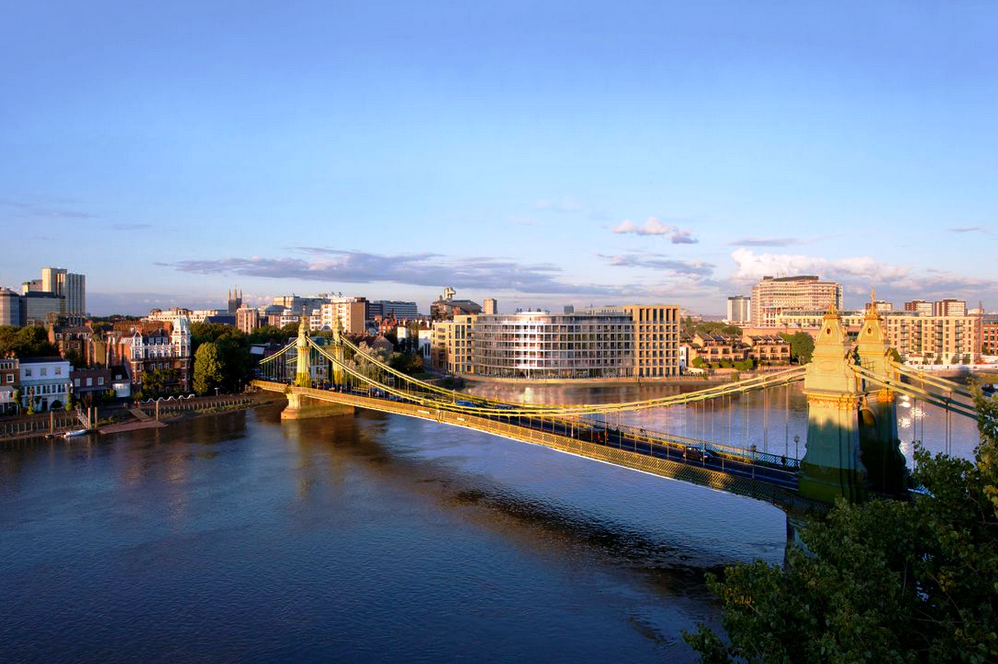 This development is brilliantly positioned on the riverside in Hammersmith, right next to Fulham Reach and Hammersmith Bridge. Amenities include dedicated 24-hour concierge, rooftop terrace, landscaped podium gardens over three levels, car parking spaces available for purchase, secure bicycle storage, theatre, cinema and performance arts at Riverside Studios, as well as cafe, restaurant and bar at ground level.
The development is due for completion in Q2 2017 - Q1 2018. Prices for studios start at £595,000, one bedroom apartments can be purchased from £760,000, two bedroom from £1,100,000, and 3 bedroom from £1,400,000.
Still have questions?
Contact us